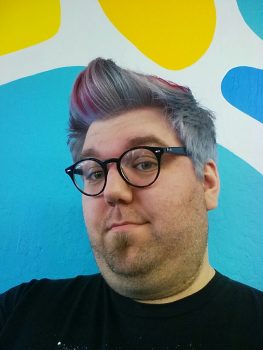 By day, A.J. Mayall works in the indie publishing field and has quality checked nearly half a million manuscripts. He lives in California with his husband and his best friend. An avid gamer, A.J.got his writing start in the gaming industry with a focus on community events and content. As an LGBT author on the autism spectrum, he feels it is his duty to write diversity into his works, to ensure that readers have new and varied worlds to enjoy. The rumors that he is a menagerie of hive-minded sentient spiders wearing a human suit are sheer fallacy and should be ignored.
Today, we're focusing on his latest release, The Art of Madness (The GearWitch Investigations), an urban fantasy published by WordFire Press on November 15, 2018. Its premise:
Phoenix McGee became a detective to show the world he was mature and reliable, capable of running his own life and business.
It's just a shame he can't adult his way out of a paper bag.
Being attuned to the clockwork nature of the universe and able to bend the fundamental laws of reality comes with the bonus that his powers don't show up under any scans, leaving him in a loophole where he can use his powers without legal restriction… or protection.
On the verge of losing everything, he takes on a simple case of suspected adultery, something to keep the lights on and the creditors at bay. Little did he suspect his life would become a chaotic whirlwind of false leads, uneasy alliances, mob ties, and a woman who punches with a sedan.
Bodies pile up as he struggles to keep things normal for himself and his assistant, Suzette DiMarco. Phoenix will need his wits if he plans to solve the case and save himself, his livelihood, and everyone around him… because cosmic powers don't pay the bills.
What do you want readers to know about your book?
There is more to come after it, and much to come before it. Also, I made a point of having my work pass the Bechdel Test. A world with diversity as a focus point, an urban fantasy without all the grimdark overcast.
Aside from the plot, is there a story behind it?
This is an idea I've had for the better part of 2 decades, a wide spanning non linear saga. The Art of Madness is the entry point, but it is NOT the beginning of the tale.
Why is your writing different from other authors in this genre?
I've noticed a lot of urban fantasy authors go for more Noir inspiration, and I take mine more from comic books and graphic novels. I like worlds where you don't have to hate the world to be the hero.
What was your path to publication?
As I work in indie publishing, I first did this on my own, but went with Wordfire Press to give me more time to write.
What are you working on now?
The next book in the series, The Always Machine.
What else have you written?
I have been in a couple anthologies, and the majority of my work was done for video games.
What is your writing routine?
I livestream the majority of my writing on Twitch, and I use dictation software.
Do you create an outline before you write?
Yes, I have every book broken down into chapters, with chapter breakdowns.
Why do you write?
Because I failed at being a ballerina. To be fair, I love storytelling, and with my job I can help others tell THEIR stories, but I have my own worlds in my head that I need to get out.
How do you overcome writer's block?
To quote Jim Butcher, "I don't have a muse. I have a mortgage."
How do you think you've evolved creatively?
Story Structure and understanding the nuances of mythos was something I struggled with in the beginning, and now it's sort of how I operate.
At this stage in your career, what is your greatest challenge?
Getting the time needed to write.
Tell us about your thoughts on collaboration.
I'm all for collaboration, and I think building communities is something that should be essential basics for getting in the industry
What life experiences inspire or enrich your work?
Being on the Autism spectrum means having a different perspective on a lot of things, so to me hearing people react to how I just see things is what inspires and enriches.
Do you have another job outside of writing? I am currently a Vetter for Smashwords, an indie e-book publisher
Describe a typical day.
I wake up, head downstairs, turn on the computer and proceed to vet about 200 to 250 manuscripts a day. When I'm done, after about 8 hours, I spend some time with my household, and then at the end of the day I do my livestreaming, which is both gaming and writing.
How do you pick yourself up in the face of adversity?
I was an autistic gay teen in the Bible Belt during the 80s and 90s, I dare you to throw something harder for me to survive.
Do you have any pet projects?
Currently I'm just wanting to get the GearWitch Investigations done, but I have things lined up for later, a cozy mystery and a story like Breaking Bad meets Who Framed Roger Rabbit.
What is your greatest life lesson?
Always have a Plan B. Life can throw you a curveball at anytime so make sure you have a way out should you need one.
Who are some of your favorite authors?Jim Butcher, Terry Pratchett, Dan Wells, R. R. Virdi
A.J., thank you for shining light on the author behind the words. Before I present an excerpt from  The Art of Madness, followed by your book buy and social links, I like you to attempt a Lightning Round. In as few words as possible, please answer the following:
My best friend would tell you I'm a: good sounding board.
The one thing I cannot do without is: Personal space.
The one thing I would change about my life: Being born shorter. I hate being 6'5".
My biggest peeve is: Anything troublesome.
The thing I'm most satisfied with is: My friendships.
Excerpt:
"We have a case!" Phoenix exclaimed as he opened the front door to McGee investigations, raising his hand for a high five.
"About damn time, McGee," said Suzette DiMarco, his assistant, confidante, and best friend, passing him by as she entered and leaving the hand hanging.
The slender, six-and-a-half-foot-tall redhead shrugged with a grin, sliding his hands into his pockets. His attire was simple: a white t-shirt, slightly baggy jeans, well-worn sneakers, and a little too much hair gel.
She had met plenty of guys like him in her brief stints as a model. Looking at what she was wearing, it was hard to imagine her on a catwalk; the high-collared gray dress was practically dowdy. Her appearance was only modernized by her thin-framed glasses and her hair in a haphazard bun.
Phoenix thought she resembled what angry librarians claim their final form to be.
"Come on. We'll have a new investigation beyond the weekly insurance claims. Husband suspects an affair."
"Oh, so you might be ruining a marriage? I'm in."
Phoenix scowled, trying to lighten the mood, "We might save it, you know. At the very least, we could maybe make a new ad from a happy customer."
Suzette looked at him, nonplussed.
"I'm still not giving you a high-five, not before my coffee."
In his twenty-three years, Phoenix McGee had learned a few things. One: No matter what life handed you, try to find the positive. There were already plenty of people who were dark and dour in his line of work. Two: A friendly smile and a bit of wit could fix nearly any situation. Three: Suzette can't be held responsible for manslaughter if it's before her morning gallon of coffee.
"Fine, be that way. The client will be here in a few hours. Once we get his paperwork filed, put it to my B pile, after the insurance cases. We need to keep the lights on, after all. I'm certain your grandmother will understand."
"I hope so. She's been messaging me about when you'll pay her back for the loans on this place."
He looked around the office. Filing cabinets were half-extended out, plastered with sticky-note reminders about bills.
"When are you seeing her next?"
"Tonight," Suzette said, pouring herself a cup of coffee. "Dinner at the hotel."
"Tell her about the new case, and the insurance companies still need to cut me a check for last month. I'm not letting her take this place."
"Will do, boss."
He checked the time. It was nearly seven, which meant Genesis would have just opened up the combination bookstore and coffee shop across the street.
"I'm grabbing celebration donuts, Suzette, anything you want?"
"Bearclaw," she said, sipping her coffee as she settled in for her day behind the desk. After a moment, she smiled, breaking her usual unimpressed expression. "Go celebrate your case, but keep it cheap."
He scowled as he walked to the door.
"What? I do your banking, McGee. Until the checks clear, you need to keep a tight budget. You know, like a functional adult."
"I'm a functional adult. Look at me. I'm running a business, I have my own place. I'm adulting fairly well. Hell, adultery is my specialty."
"Adult, my ass. You sleep with a stuffed animal."
"You leave Bouncer out of this."
Suzette pointed to the door, chuckling, "Don't forget my donut, you goddamned manchild."
"I always thought of myself as more of a 'rascal'," he said, opening the door onto the streets of Rouge Mal, leaving McGee Investigations, and quickly crossing the street to The Books of Genesis.
He heard the familiar ring of the bell over the door as he entered, calling out to his friend and neighbor, curious what color her hair was today. When he turned to face the counter, he paled.
Two robbers had guns pointed at the rainbow-haired woman behind the counter. Genesis trembled.
Phoenix sighed, "And here I thought the morning was going so well."
Those of you who would like to follow A.J. online can do so here:
Twitter: @ArbiterFabulous
Twitch: twitch.tv/Pound0fFlesh
You can purchase  The Art of Madness here: